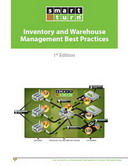 Free eBook "Inventory and Warehouse Management Best Practices" from SmartTurn. Download it in pdf format.
Book Description
If your operation is one of the tens of thousands of warehouses in the United States still using paper, Microsoft Excel, or processes first developed in the late 70s/early 80s, we're here to help. To provide you tools, information, guidance, tips, proven methodologies that you can implement throughout your company, we offer you this eBook on "Best Practices for Inventory and Warehouse Management."
SmartTurn created this eBook for business owners, logistics professionals, accounting staff, and procurement managers responsible for inventory, warehouse and 3PL operations, as well as anyone else who wants to demystify warehouse planning and operations.
Contents
Comparing SaaS to On-Premise WMS 7
Warehouse Safety 12
Collaboration 20
RF Mobile in Warehousing 25
Setting Up a Warehouse RF network
Receiving
Slotting
Putaway
Cycle Counting
Replenishment
Picking – Selecting the Right Systems, Methods and Technologies
Kitting and Sub-Assembly
Picking: How to Do it Right
Annual/Physical Inventory
Book Details
Author(s): SmartTurn Inc.
Format(s): PDF (2.41 MB)
Number of pages: 82
Link:
Download.
Like This Post? Please Share!