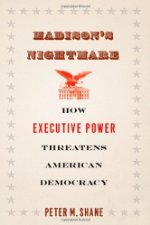 "Madison's Nightmare: How Executive Power Threatens American Democracy", by Peter M. Shane, is the free eBook of the month from University of Chicago Press.
Book Description
The George W. Bush administration's ambitious—even breathtaking—claims of unilateral executive authority raised deep concerns among constitutional scholars, civil libertarians, and ordinary citizens alike. But Bush's attempts to assert his power are only the culmination of a near-thirty-year assault on the basic checks and balances of the U.S. government—a battle waged by presidents of both parties, and one that, as Peter M. Shane warns in Madison's Nightmare, threatens to utterly subvert the founders' vision of representative government.
Book Details:
Author(s): Peter M. Shane
Format(s): Adobe Digital Editions 1.28 MB (PC, Mac, Linux, Nook, Kobo, Sony Reader), Bluefire Reader (iPhone, iPad, iPod, Android), Aldiko (Android).
Number of pages: 258
Link:
Download
Like This Post? Please Share!