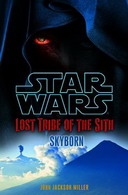 Download "Star Wars: Lost Tribe of the Sith: Skyborn" by John Jackson Miller from Suvudu Free Book Library. It is available in pdf, Kindle, Sony Reader, Scribd and Stanza formats.

Book Description
A Jedi ambush leaves the Sith ship Omen marooned on a remote alien world, its survivors at the mercy of their desolate surroundings and facing almost certain death. But Sith will no more bow before the whims of fate than they will yield to the weapons of their enemies. And Omen's cunning commander Yaru Korsin will let nothing keep him and his crew from returning to the stars and rejoining the Sith order's conquest of the galaxy. Murdering his own brother has proven Korsin's ruthless resolve–but now an entire race stands in his way.
Book Details
Author(s): John Jackson Miller
Format(s): PDF (2.61 MB)
Number of pages: 56
Link:
Download.
Like This Post? Please Share!