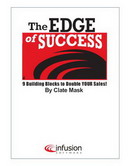 "The Edge of Success: 9 Building Blocks to Double Your Sales" is a 57 page free ebook by Infusionsoft.
Book Description
You'll learn:
* Proven techniques for converting prospects into customers, and customers into raving fans
* How to systemize and simplify your business
* The true art of effective follow-up
* The one "secret" every small business owner must know
* And so much more!!!
Contents
The Building Blocks
The "Secret" to Small Business Success
Supercharge Your Website
Fill the Funnel
Convert Your Funnel
Win Lifelong Customers
Flip Your Funnel
Sell Stuff Online
Collect the Cash
Grow Through Partners
Measure and Tweak
Book Details
Author(s): Clate Mask
Format(s): PDF (14.37 MB)
Number of pages: 57
Link:
Download.
Like This Post? Please Share!