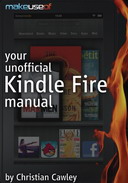 "Your Unofficial Kindle Fire Manual", from MakeUseOf.com, breaks all the features of the Fire down with easy-to-follow, step-by-step explanations and tutorials. After reading it you'll know exactly how to get the most out of your device.
Book Description
The Kindle Fire is Amazon's centrepiece consumer hardware, a quality tablet that can be used to read emails, browse the web and of course read books using the Kindle software. At just 7.5 by 4.7 inches, the Kindle Fire is of a similar size to the standard Kindle devices, but has high specifications that make it ideal for a range of tasks and activities beyond reading.

Combining of Android and Kindle makes this device most intriguing. To all intents and purposes, the Kindle Fire is an Android tablet, with a special layer of software added to resemble a Kindle reader.
Contents
Introduction: What Is the Kindle Fire?
Setting Up the Kindle Fire
The Kindle Fire User Interface
Installing and Launching Apps
Music, Video and Amazon Prime
Accessing the Web on Your Kindle Fire
Sending Email on the Kindle Fire
Kindle Fire Settings & Connectivity
Kindle Fire Security
Book Details:
Author(s): Christian Cawley
Format(s): PDF (3.78 MB)
Number of pages: 38
Link:
Download
Like This Post? Please Share!