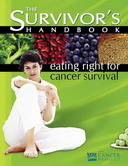 "The Survivor's Handbook: Eating Right for Cancer Survival" by The Cancer Project. It was written by Neal D. Barnard, M.D., with the help of Jennifer K. Reilly, R.D. It will give you important insights into food's role in cancer prevention and cancer survival.
Book Description
This groundbreaking new book will provide you with empowering information on how simple, everyday choices can cause major changes in your health and well being. Written by best-selling author Neal Barnard, M.D., The Survivor's Handbook provides comprehensive information you can put to work right now. Subjects include: Fueling Up on Low-Fat Foods; Favoring Fiber; Discovering Dairy Alternatives; Replacing Meat; Planning Healthy Meals; Antioxidants and Phytochemicals; Immune Boosting Foods; Maintaining a healthy Weight; Foods and Breast Cancer Survival; Foods and Prostate Cancer Survival; PLUS over 60 pages of delicious easy-to-prepare recipes!
Contents
More than 100 fast and healthy recipes.
Practical steps for weight control, menu planning, and healthy eating in restaurants.
Groundbreaking information about immune-boosting foods, antioxidants and phytochemicals, and much more.
Book Details
Author(s): Neal D. Barnard, MD and Jennifer K. Reilly, RD.
Format(s): PDF (7.39 MB)
Number of pages: 258
Link:
Download.
Like This Post? Please Share!