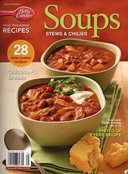 Download or view online free recipe eBook: "Betty Crocker Soups, Stews and Chilies".
Book Description
Qick–what's your favorite comfort food? Even if soup is not at the top of your list, chances are it's in your top 10. What is it about a bowl of soup, stew orchili that not only warms the stomach, but the heart as well? Whether it's yout grandma's cure-all chicken soup or your dad's super-secret recipe for spicy chili-soups, stews and chilies seem to provoke fornd memories morethan other kinds of foods.
Contents
"Souper" Soup Toppers
Get Garnished
Simple Soups
Satisfying Stews
Classic Chilies
Bountiful Breads
Nutrition and Recipe Testing Guidelines
Book Details
Author(s): Heidi Losleben
Format(s): NXTbook
Number of pages: 96
Link:
Download/View
Like This Post? Please Share!