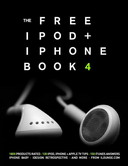 Free eBook on iPod and iPhone by iLounge. 1800 Products rated. 130 iPod, iPhone and Apple TV tips. 150 iTunes answers. Over 20 world exclusive Sneak Peeks. Complete tutorials to all things iPod, iPhone, iTunes, and Apple TV. Beautiful reader-submitted art and photos. And big announcements from iLounge's publisher and editors.

Book Description
* Over 20 Exclusive Sneak Peeks: Take world-exclusive first looks at new speakers from iHome, earphones from Etymotic and Scosche, in-car accessories from Monster Cable and Griffin Technology, and cases from some of the world's top designers.
* All Things iPod, iPhone, and Apple TV: Split into 16 sections that cover the full lifespans of Apple's media devices – from purchase and initial connection to use, repair, and eventual sale – this massive guide also helps users learn how to fill, customize, and accessorize these devices. With newly expanded parts on choosing earphones, finding iPhone-compatible car accessories, and creating device-optimized videos, the All Things guide also contains new direct links to the iLounge.com website for additional, personalized assistance.
* 150 iTunes Answers: Completely reorganized and updated for the latest version of Apple's iTunes digital media software, 150 iTunes Answers now offers a full 100 pages of helpful tips and pictures. Starting with how to transfer an iPod's or iPhone's contents back to your computer, then including special sections on the iTunes Store, maximizing sound quality, and much more, 150 iTunes Answers now can be read from front to back or as individual tips from a master index.
* The Next-Generation iPhone and Photo Galleries: Beautiful photographs and images submitted by iLounge readers depict the past, present, and future of Apple's iPhone family, as well as the latest globe-trotting iPods.
Book Details
Author(s): Jeremy Horwitz
Format(s): PDF (22.8 MB)
Number of pages: 135
Link:
Download.
Like This Post? Please Share!