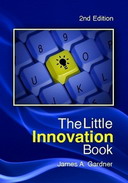 Read this book "The Little Innovation Book 2nd Edition", written by James Gardner for free online.
Book Description
Innovation Management is a relatively new discipline. Without the history of other business functions, such as Marketing and Accounting, business leaders often find themselves at a loss when they are asked to create an innovation effort from scratch. This is a book which aims to provide everything needed to get started. In 10 bite-sized chunks, The Little Innovation Book provides the foundations for an innovation effort specific to your firm. With those foundations in place, there is nothing to prevent your organisation out-innovating your competition, driving new value where previously none existed.
Contents
Create an Innovation Strategy First
Define what Innovation Means
Make Sure the Role of Innovators is Clear
Have a Connection to the Money
Address the Three Big Myths
Manage the Technologists
Answer the 3 Key Questions
Drown the Puppy
Share Everything
Manage the People
Book Details
Author(s): James A. Gardner
Format(s): HTML
Link:
Read online
Like This Post? Please Share!