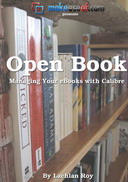 This guide hopes to help you find, organize and read open books, and only briefly discusses books protected with DRM. The good news: with a program called Calibre, open books can be easily read on any eReader, from the Kindle to the iPhone to the Kobo.
Book Description
Find yourself collecting eBooks, but not sure how to manage them all? "Open Book: Managing Your eBooks With Calibre" is the free download you've been looking for. This guide, from author Lachlan Roy, outlines the best tools on the market for managing your (non-DRM) eBook collection. Easily manage, convert and transfer your books using Calibre, the swiss army knife of eBook software, and a variety of related programs.
Contents
Introduction
eBooks: An Introduction
What are eBooks?
Where to find eBooks
DRM
Formats and Devices
Enter calibre
What Is Calibre?
What Can It Do?
eBook Library Management
eBook Format Conversion
Syncing to eReaders
Grabbing the News
Hosting Your eBook Collection
Advanced Tips
Dropbox Kludge
Stanza
DRM Removal
Kindle DRM
Book Details
Author(s): Lachlan roy
Format(s): PDF
File size: 3.26 MB
Number of pages: 25
Link:
Download.
Like This Post? Please Share!