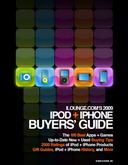 Packed with the latest and greatest new products, the 150-page 2009 iPod + iPhone Buyers' Guide features more than a dozen new sections.
Book Description
Here's what's inside: 100 Best iPhone and iPod touch Apps and Games, Top Accessories for iPod + iPhone, Best of the Year and Readers' Choice Awards, iProvocateur and iPod As Art Winners, Complete History of iPod and iPhone Products, Buying and Selling iPods and iPhones and Complete Color Charts for all iPod and iPhone models.
Book Details
Author(s): Dennis Lloyd
Format(s): PDF (15.70 MB)
Number of pages: 150
Link:
Download.
Like This Post? Please Share!