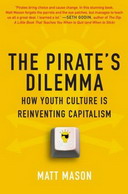 You can download this ebook "The Pirate's Dilemma: How Youth Culture Is Reinventing Capitalism" for a price that is entirely up to you. You can set the price anywhere from $0.00 upwards. You'll need to enter your email address.
Book Description
The Pirate's Dilemma tells the story of how youth culture drives innovation and is changing the way the world works. With great wit and insight Matt Mason [voted Best Pirate of 2008 by BusinessWeek] offers understanding for a time when piracy is just another business model. The remix is our most powerful marketing tool and anyone with a computer is capable of reaching more people than a multinational corporation.
Contents
Intro: Enter the Lollipop
Punk Capitalism From D.I.Y. to Downloading Sneakers
The Tao of Pirates Sea Forts, Patent Trolls, and Why We Need Piracy
We Invented the Remix Cut-'n'-Paste Culture Creates Some New Common Ground
The Art of War Street Art, Branding, and the Battle for Public Space
Boundaries Disco Nuns, the Death of the Record Industry, and Our Open-Source Future
Real Talk How Hip-Hop Makes Billions and Could Bring About World Peace
Ethernomics Pillow Fights, Happy Slaps, and Other Memes That Leave a Mark
Outro: The Pirate's Dilemma: Changing the Game Theory
Book Details
Author(s): Matt Mason
Format(s):
Number of pages: 313
Link:
Download.
Like This Post? Please Share!