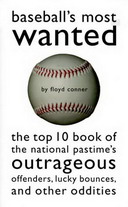 "Baseball's Most Wanted: The Top 10 Book of the National Pastime's Outrageous Offenders, Lucky Bounces, and Other Oddities" by Floyd Conner.
Book Description
Edd Roush was once ejected from a game for falling asleep in the outfield. Dan Friend played left field while dressed in a bathrobe. Outfielder Len Koenecke was killed attempting history's first skyjacking. Pitchers Fritz Peterson and Mike Kekich swapped not only their wives but also their children, station wagons, and pets.

Baseball history is brimming with the weird, the bizarre, and the hard to believe. Baseball's Most Wanted™chronicles 700 of the most outlandish players, managers, and owners throughout baseball history. Its seventy lists describe in humorous detail baseball's top-ten inept players, strange plays, bad practical jokes, bizarre nicknames, murderers, politicians, Don Juans, unusual contracts, notable nicknames, curses, worst trades, freak injuries, unsolved mysteries, least-known records, and more. Many of these anecdotes have been published here for the first time.
Book Details
Author(s): Floyd Conner
Format(s): PDF
Number of pages: 390
Link:
Download.
Like This Post? Please Share!