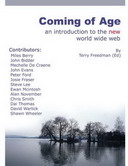 "Coming of Age" is a free booklet that describes the use of some of the newer emerging web technologies such as blogs, podcasts, wikis, RSS and social tagging in Education. It features case studies and how-to articles by leading practitioners in the world of education to inspire teachers to want to try some of these "new tools" for themselves and with their classes, and then to provide practical advice and guidance on how to do so.
Book Description
"Coming of Age" is the concept of Terry Freedman who runs the informative ICT in education web site. Terry has guided a group of 14 collaborators from around the world into providing many examples and practical advice on how to take advantage of these tools. He has almost literally 'worked his socks off' in order to create this exciting document so 'do him a favor' and read it, and then pass it on.
Contents
Book Review: Redefining Literacy For The 2St Century
Effective E-Learning Through Collaboration
What Are Rss Feeds And Why Haven'T I Heard About It?(Rss Feeds From An Educator'S Perspective)
Blogging: Shift Of Control
Photo-Sharing And Clip-Art
Factoring Web Logs To Their Fundamentals
Virtual Support Via The Blogosphere
The International Edublog Awards
Blogs You Must Read!
Elgg And Blogging In Primary Education
Using Blogs In School
Thinking About Creativity, Thinking About Blogs!
Book Review: Classroom Blogging: A Teacher'S Guide To The Blogosphere
Book Review: New Tools For Learning
Diary Of A Potential Podcasting Junkie
Finding Good Podcasts
Podcasting Resources
Podcasting
Finding And Subscribing To A Podcast Via Itunes
Obtaining Information About A Podcast In Itunes
Giving Students A Second Listen
Podcasting: A Review Of Recording Devices
Other Useful Websites
Create An Rss Feed For Your Podcast
List Your Podcast And Find Others'
Podcasting And Wikis
Recording A Podcast On A Computer
Uses Of Podcasting In Schools
Video Blogging: Terry Freedman Interviews Paul Knight
Video Blogging In Schools
Wikis: An Introduction
Wikipedia Vs Britannica
Setting Up A Wiki
Wikiville: An Interview With John Bidder
Social Bookmarking
Forums, Instant Messaging And Other Ways To Participate
Book Details
Author(s): Terry Freedman
Format(s): PDF (1.90 MB)
Number of pages: 92
Link:
Download.
Like This Post? Please Share!