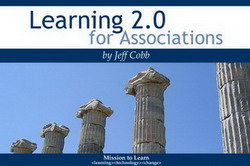 This free ebook considers how approaches to learning have evolved and what impact the new technologies dubbed "Web 2.0" are having. In it you will find examples of ways in which associations are using these new technologies and what possibilities they may represent for your organization's professional development and other learning initiatives.
Contents
What's Changed and What Hasn't
Introduction
From Learning 1.0 to Learning 2.0
What Caused This?
Possibilities and Examples
What Does It All Mean?
What's Next?
Resources
Book Details
Author(s): Jeff Cobb
Format(s): PDF (1.62 MB)
Number of pages: 86
Link:
Download
Like This Post? Please Share!