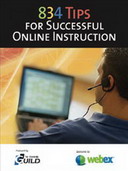 Free ebook 834 Tips for Successful Online Instruction by The eLearning Guild is an amazing collection of tips from 336 of your professional colleagues. Nowhere will you find a more comprehensive set of tips that you can use to improve your knowledge and skills in online instruction.
Contents
Tips for Instructors
Tips for Managers
Tips for Design and Development Teams
Tips for Implementation
Book Details
Like This Post? Please Share!