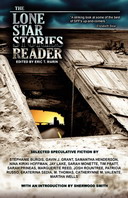 "The Lone Star Stories Reader", an anthology of fantastic and strange fiction selected from the works published in the first 25 issues of Lone Star Stories, is now available as a free pdf download.
Book Description
An immersive collection of fifteen fantastic and unexpected stories by new and established writing talents such as Nina Kiriki Hoffman, Jay Lake, Sarah Monette, Tim Pratt, Ekaterina Sedia, Catherynne M. Valente, and Martha Wells awaits you in this anthology of speculative fiction selected from the first twenty-five issues of Lone Star Stories webzine. Come walk along the outskirts of genre and experience the strange and wondrous tales of The Lone Star Stories Reader.
Contents
Introduction by Sherwood Smith
"Wolf Night" by Martha Wells
"Seasonal Work" by Nina Kiriki Hoffman
"'Janet, Meet Bob'" by Gavin J. Grant
"The Great Conviction of Tia Inez" by M. Thomas
"Angels of a Desert Heaven" by Marguerite Reed
"The Disemboweler" by Ekaterina Sedia
"A Night in Electric Squidland" by Sarah Monette
"Thread: A Triptych" by Catherynne M. Valente
"The Frozen One" by Tim Pratt
"Dragon Hunt" by Sarah Prineas
"Manuscript Found Written in the Paw Prints of a Stoat" by Samantha Henderson
"Giant" by Stephanie Burgis
"When the Rain Comes" by Josh Rountree
"The Hangman Isn't Hanging" by Jay Lake
"The Oracle Opens One Eye" by Patricia Russo
Book Details
Author(s): –
Format(s): PDF (1.76 MB)
Number of pages: 284
Link:
Download.
Like This Post? Please Share!