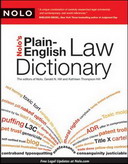 You can read "Nolo's Plain-English Law Dictionary" online for free.
Book Description
Open the average law dictionary and chances are you'll feel more confused than before you read a word. Nolo's Plain-English Law Dictionary is different. From "abrogate" to "zero tape", we've cut down on the Latin and defined common (and some not-so-common) terms you can really use to understand and access the law.

Nolo's Plain-English Law Dictionary contains 3,800 plain-English legal definitions, including many newly coined terms you'll find online and off, such as "typosquatting" and "patent troll". Of course, if you need definitions for legal standards — even when they're in Latin — you'll find those here too. Plus, find a copy of the Constitution of the United States of America for your reference in the pages following the complete list of definitions.
Book Details
Author(s): Gerald Hill
Format(s): HTML
Number of pages: 496
Link:
Read online.
Like This Post? Please Share!