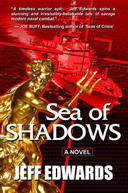 Download thriller novel "Sea of Shadows", written by Jeff Edwards in pdf format for free.
Book Description
A minor accident at a German nuclear power plant, a Biological Warfare attack on the British Embassy in Washington, DC, and a secret arms deal combine to drive a trusted NATO Ally into an illegal alliance with a rogue Middle Eastern state. With the world hovering on the brink of war, a handful of U.S. Navy warships must track down and destroy a wolfpack of state-of-the-art submarines. Their enemy is skilled in deception, and incredibly lethal. Out-gunned, out-maneuvered, and out-thought, the U.S. Navy crews must throw the rulebook out the window, and become every bit as devious and deadly as their enemy. If they fail, the consequences are unthinkable…
Book Details
Author(s): Jeff Edwards
Format(s): PDF
File size: 1.85 MB
Number of pages: 354
Link:
Download
Like This Post? Please Share!