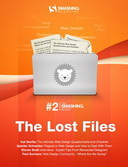 Download free eBook "Smashing Book #2: The Lost Files" from Smashing Magazine.
Book Description
Initially, "Smashing Book" was supposed to contain more chapters, but because most of our contributors delivered much more content than the book's size could accommodate, we couldn't include them all. (We could have added more pages, but then shipping costs would have increased significantly.) So, we released four chapters as a free bonus eBook, called "The Lost Files." In the more than 120 pages, you will read the following four chapters.
Contents
Plagues in Web Design Business & How To Deal With Them
Web Design Community: Where Are We Going?
The Ultimate Web Design Questionnaire And Checklist
Interviews: Expert Tips From Renowned Designers
Book Details
Author(s): Speider Schneider, Paul Scrivens, Kat Neville and Steven Snell.
Format(s): PDF, ePub, Mobi
File size: 39.00 MB
Number of pages: 127
Link:
Download
Like This Post? Please Share!