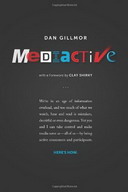 Download "Mediactive", written by Dan Gillmor in pdf format or read it online.
Book Description
We're in an age of information overload, and too much of what we watch, hear and read is mistaken, deceitful or even dangerous. Yet you and I can take control and make media serve us — all of us — by being active consumers and participants. Here's how. With a Foreword by Clay Shirky.
Contents
Darwin's Media
Becoming an Active User: Principles
Tools and Techniques for the Mediactive Consumer
Journalism's Evolving Ecosystem
Principles of Trustworthy Media Creation
Tools and Tactics for Trusted Creators
Owning Your Online Presence
Entrepreneurs Will Save Journalism, and You Could Be One of Them
Laws and Norms
Teaching and Learning Mediactivity
A Path to Tomorrow
Book Details
Like This Post? Please Share!